Presentation of the Inclusive Equipment by Marina Poroshenko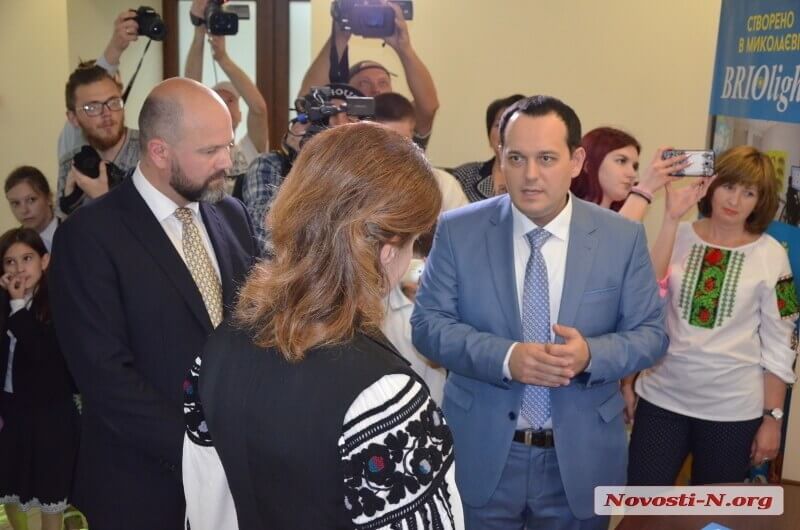 May 2018. The founder of Briolite Andrei Vasiliev tells First Lady about new products of the company and methods of electronic inclusion.
On Thursday, May 17, in the Mykolayiv Regional State Administration, modern equipment was shown to be used for the rehabilitation of people with special needs, as well as for elementary school students.
The equipment review was held on the ground floor in the hall of the session hall of the regional council. Participation in it was taken by the wife of President Marina Poroshenko, as well as a number of officials from the Mykolaiv region – mayors of cities, heads of administrations, heads of departments and departments.
Among the exhibits that were of greatest interest were "interactive platforms" – with their help, children without leaving the school can play a movable game from several participants, or answer questions from the curriculum, "advancing" on the correct answers.
Presenters have also shown single batches, and many more will now be filled with classes in elementary schools.
It is expected that many of these innovations will be received by the school before the beginning of the school year – within the framework of the program "New Ukrainian School".
Let's remind that before that the wife of the President participated in the ceremony of signing a memorandum between the fund of Peter Poroshenko and the communities of the Mykolaiv region on cooperation within the framework of the project "Inclusive education – the level of consciousness of the nation".
Source: НикВести
BACK