Briolight Interactive Sandbox – Therapeutic Task #1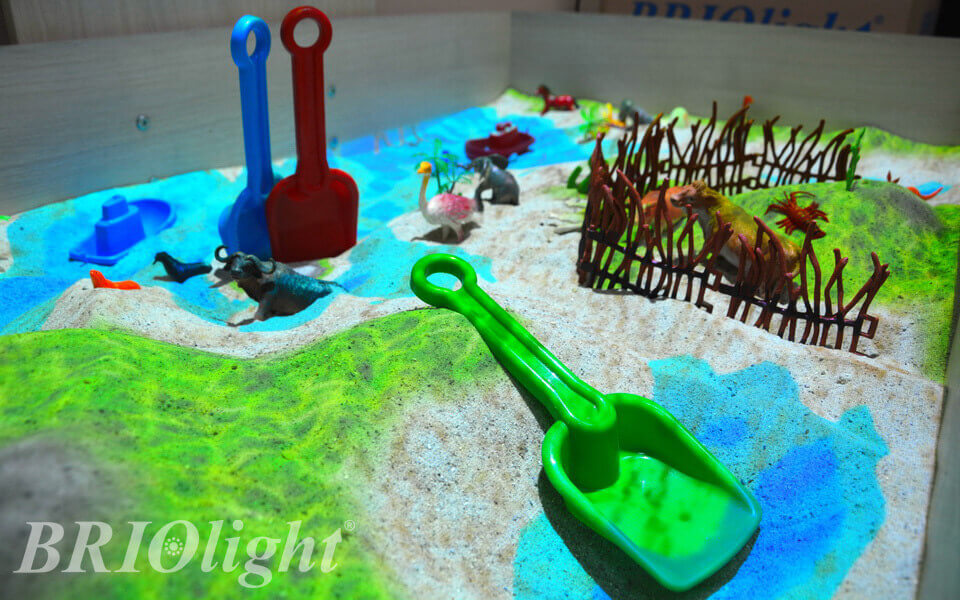 An interactive sandbox is a fun game in which a child can create various landscapes, look for artifacts and treasures. However, this is not only entertainment. Also, it helps in an interesting way to gain new knowledge, find a common language with peers and helps reduce emotional stress.
Today we will consider how our sandbox enables the child to play and develop at the same time.
✅ Training
With the help of the sandbox, the child acquires initial knowledge of geography: what the surface of the earth looks like, what are the mountains and plains, the sea and the lake, the island and the mainland.
In addition, we provide a set of toy animals: domestic, wild and marine. Therefore, it is possible to conduct various classes with these figures. For example, "Who lives where?", Where children should place animals in the appropriate area: land or reservoir, plain or mountains, meadows or deserts.
Also, you can set the opposite task for the children. The child is given an animal and it is necessary to create a suitable area for it. Make a sea for a dolphin, make a river for cancer, make a desert for an ostrich, and place a cow on green meadows.
Thus, the child feels initiative and competent in creating his own model of the world, so that confidence in his own strength grows! And positive emotions reinforce such important qualities of character as perseverance and determination to achieve the desired! Children with a diagnosis of cerebral palsy are a big help and support to get motivation for recovery!
Continued in the next publication.
☎️ +38 (050/067/063) 258-15-15
BACK