Interactive methods in rehabilitation of children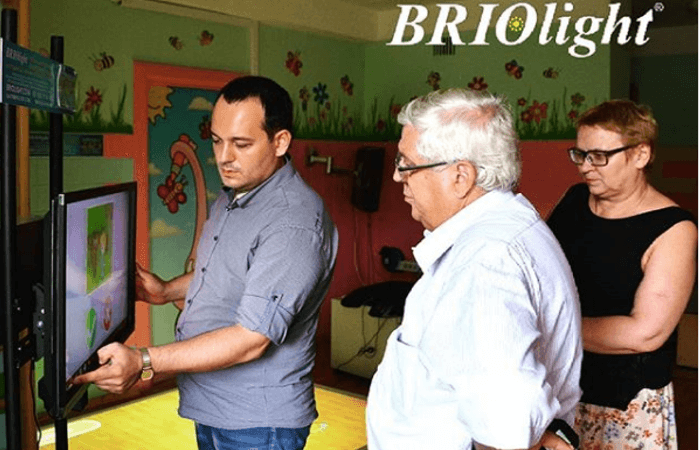 June 2019. Ukrainian Center for the rehabilitation of children with organic lesions of the nervous system of the Ministry of Health of Ukraine.

Since 2018, interactive methods of rehabilitation have been introduced at the Center thanks to the charitable help of the Brillight Company: Integrative Flooring, Interactive Panel, and Interactive Sandbox.
Since 2007, Briolight is a Ukrainian developer of electronic solutions for rehab, advertising, interior and entertainment. Office and production are located in the city of Nikolaev. Until 2013, the manufacturer of customized marketing solutions for large corporations (DiAgeo, MARS, McDonalds, PepsiCo, Samsung, Unilever) with electronics specialization. Since 2011, have implemented a number of charity projects in the field of rehabilitation of children with special needs.
Classes at Interactive Panel, Interactive Sandbox complexes are active
are conducted by correctional educators in children from 3 years of age with the purpose of induced training
the affected hand in children with cerebral palsy, the formation of motivational behavior in children with mental retardation before performing certain movements and cognitive
activity in general. Over 2018-2019, around 120 children were rehabilitated from using these techniques.
Classes using the Integrative Flooring system are used in children with motor disorders, aged 3 years or more, in order to improve balance and coordination of movements in a vertical position, improvement of balancing, development logical thinking and cognitive activity. This is primarily a game, but a key one
A component of this technology is the ability of a child with disabilities
interact with the virtual environment that works on the principle of biological feedback. There are sets of exercises for the limbs, for the maintenance of the body, and visual and acoustic stimulation is of interest, increases the motivation of the child and the desire to repeat and continue to perform more complex tasks. In 2018, the course was attended by 67 children. The use of interactive methods of rehabilitation helps to implement active game rehabilitation techniques for children who are very fond of children and they are happy to attend these classes.
BACK