Useful information for working with interactive floors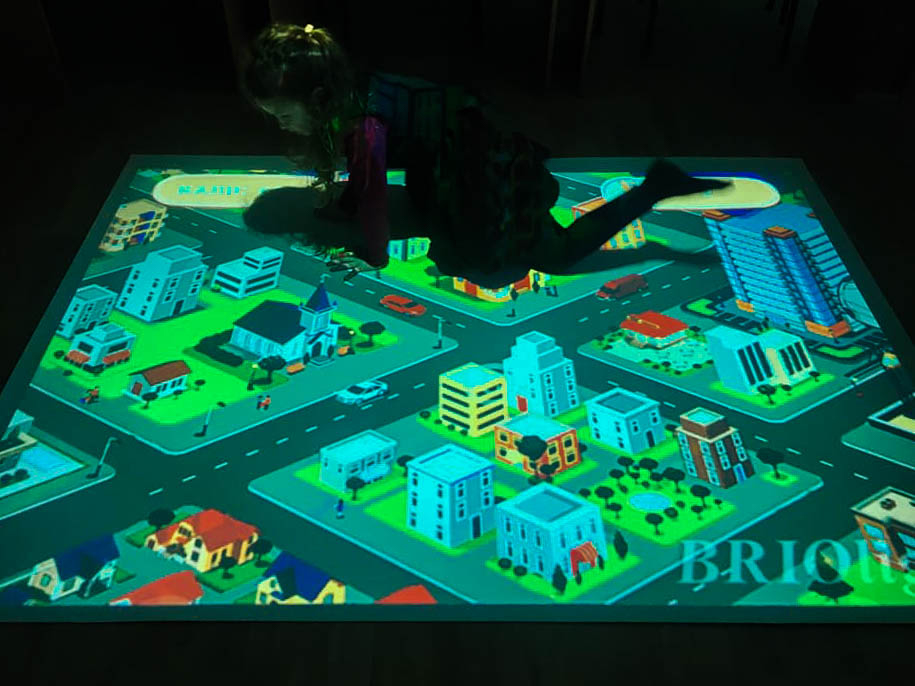 It is difficult to imagine working with modern children (whether it be training or rehabilitation) without the use of interactive methods and multimedia technologies.
Such equipment makes it possible to provide educational material in both traditional and more accessible perception for children (visual-verbal form).
By combining traditional methods with interactive technologies, the greatest effect can be achieved for children.
An interactive floor is used as an effective modern equipment in rehabilitation activities and the educational process.
Goals and objectives
The main purpose of its use is physical activity and learning tasks for children with disabilities, as well as mental, physical stimulation.
Teachers have the opportunity to independently prepare material and draw up a lesson plan, and they can also use ready-made functionality in order to create and edit existing effects. Classes can be conducted both individually and in groups.
The interactive floor includes effects, quizzes and activities, and upon purchase of the Briolight E version, the customer is given access to the corporate knowledge base, which is updated with examples of exercises for different effects.
The use of a projection floor ensures the all-round development of disabled children, due to their interaction with a dynamic image on the floor, which is based on program logic.
Briolight interactive floor performs three tasks at once:
development of the cognitive sphere of students;
increasing motivation to learn;
development of social and motor skills.
The formation of educational motivation, especially in children with severe multiple developmental disabilities, is the main job of a teacher. The use of non-standard technologies helps to increase this motivation in children, so the correction / learning process will be faster. Children who have reached the age of three and older can use the interactive floor, which allows:
improve balance;
develop motor skills, coordination of movements in an upright position;
improve balancing;
develop cognitive activity, logical thinking;
restore lost functions.
Features of use
Despite the fact that the complex is considered more of a game, its use allows children with disabilities to interact with a virtual environment, the principle of which is to receive biological feedback. Thanks to visual and sound stimulation, children increase their motivation, desire to repeat, and perform tasks of increased complexity in the future. The use of interactive methods in the rehabilitation process contributes to the introduction of active play methods of rehabilitation, which are very popular with children and increase their interest.
As practice has shown, during the game, children forget about illness, overcome inconveniences, and often pain. Games are selected depending on the child's temperament, physiological and psychological capabilities, as well as unique characteristics.
For a teacher, this is an opportunity to diversify the learning process by applying innovative technologies.
For autistic children, we have developed games that increase the ability to concentrate, contemplate, and the use of team games contributes to the development of communication, facilitates the formation of social contacts.
For students of inclusive classes, floor contributes to the development of cognitive processes and motor functions in the process of playing activity.
And for students with developmental disabilities who are very difficult to make contact, bright projections have been developed that attract their attention – albeit awkwardly, they begin to get to know him, cautiously observing how changes occur after a small touch on the floor.
And we note that the interactive floor does not have a negative effect on the eyes, including children's eyes, unlike computers, smartphones, laptops and other equipment.
Recommendations for the use of interactive floor from psychologists are 30-40 minutes, but for excitable children, the time should be reduced. After using the interactive floor, the child should feel peace and relaxation, even if the lessons were aimed at developing certain cognitive processes, especially if a clearly defined goal was set: the normalization of the psycho-emotional state. Therefore, we recommend that you always finish your work with relaxation effects (for example, Water or Stars).
Contraindications
A contraindication to the use of a sensory floor is the presence of frequent epileptic seizures in a child (patient).
When working with hyperexcitable children, it is necessary to reduce the time of use, reduce the load on the sensing system, and also exclude active stimulating elements.
When working with anxious children, it is necessary to exclude abrupt transitions from one stimulus to another.
BACK