Where and for what purposes is the interactive floor used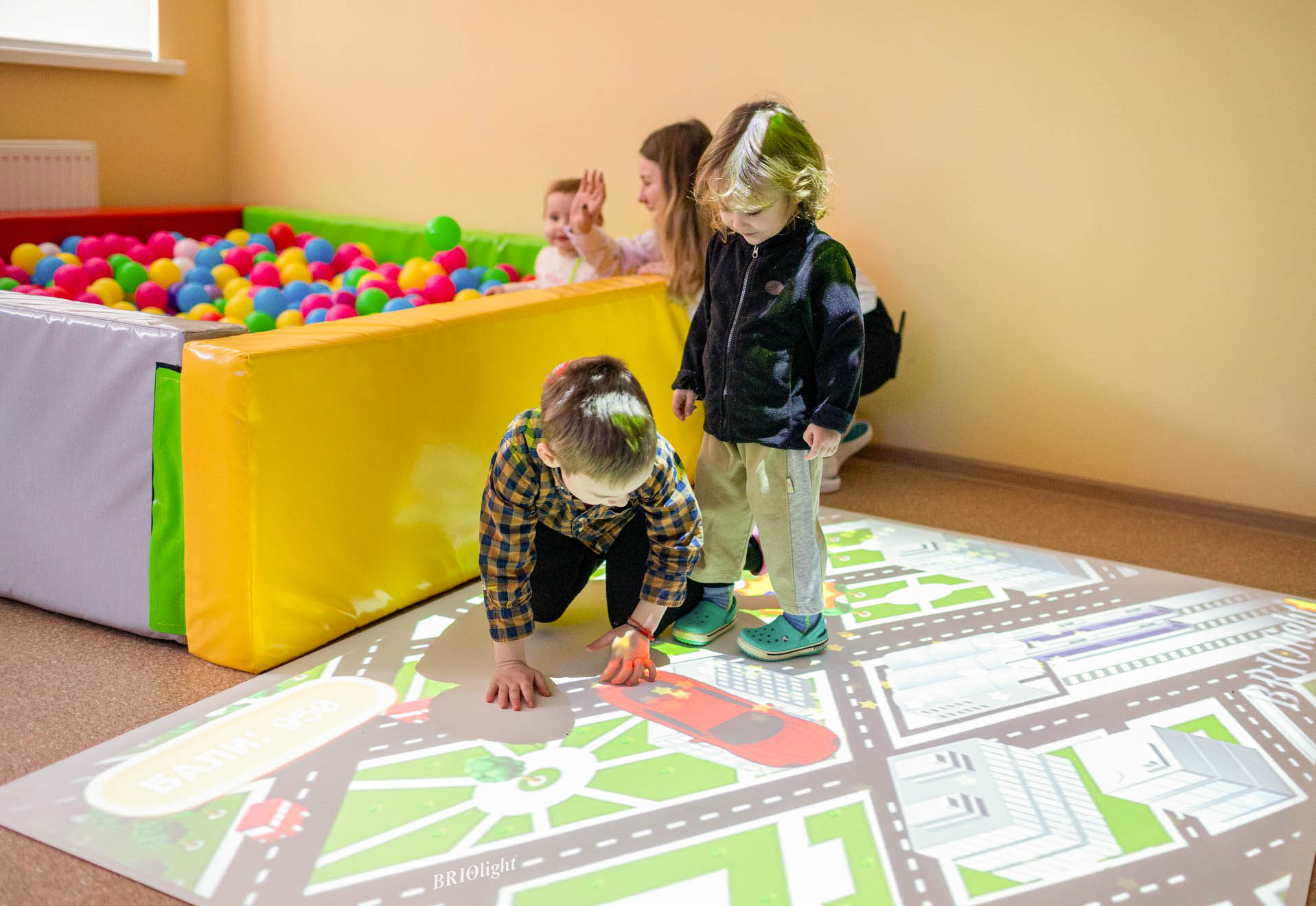 New technologies are driving progress in all areas. In this article, we will talk about the use cases for interactive floor faced by Briolight.
The use of the projection developmental game complex Briolight, due to the interaction with a dynamic image on the floor, which is based on program logic, arouses interest not only among children, but also among adults. Therefore, the beginning of our journey was from the advertising sphere.
Advertising
Business owners have always wanted to differentiate their brand from hundreds of others. Therefore, we used new ways to attract customers. There were frequent requests to install the floor as an advertisement and a means of drawing attention to the store. But we didn't want to stop there. There were few logo effects and we decided to move on.
Although even now we are happy to take on such orders, we adapt the effects for brands and their areas of activity.
Entertainment
Filling our platform with effects, we began to focus on the children's audience. So Briolight came to the entertainment industry.
It has become normal practice to bring your child to the nursery while shopping. And it's twice as pleasant when, after shopping and picking up your child, you realize that he has learned new numbers or English words. Thus, more and more children's rooms began to be equipped with interactive complexes, incl. floors.
Rehabilitation
But having studied the issue deeper, we realized that we can be useful to children with special needs and the teachers who work with them. The use of interactive equipment in this manner has become a normal practice in different countries.
Classes with the help of an interactive floor are conducted by correctional teachers with children who have reached the age of three and older. As a rule, such a need arises in case of motor disorders, in order to improve balance, coordination of movements in an upright position, improve balancing, develop logical thinking, and cognitive activity.
Having learned about the possibilities and results of the use of gender, representatives of preschool and school education were also interested in our product.
Education
The need to keep the attention of children accompanies teachers constantly. Additionally, there is the issue of spending time for children during recess.
In 2020 we released new software, in which we delved deeper into the Ukrainian school curriculum. Using the interactive floor, it is not difficult to form a fascinating educational process, as well as to consolidate the studied material in a playful way during breaks.
Our equipment is installed in schools, IRCs, kindergartens, entertainment and shopping centers, and even in a pet store.
We are happy to take on any orders and are not afraid of non-standard offers, because each of the areas was something new for us.
Briolight sees a great future in the interactive floor, and you see even more and help to implement projects in new places, create programs and games.
Thank you for your trust and innovative ideas.
BACK