Briolight E interactive sandbox 2021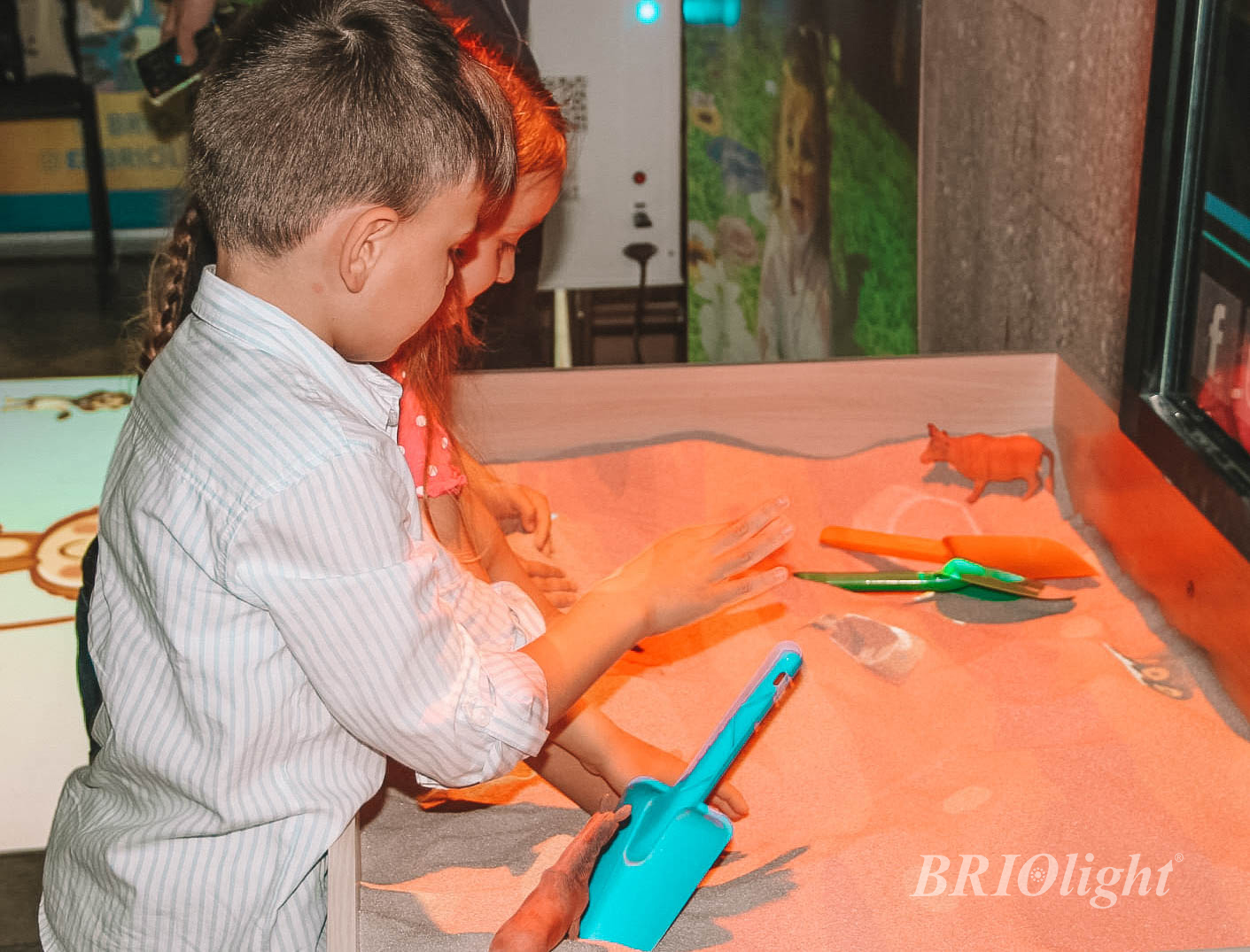 Interactive sandbox Briolight E is the first projection augmented reality sandbox in Ukraine, which includes a large set of correctional and educational exercises and modes. 
For a long time we offered an interactive sandbox with the "Landscape" mode, it won over all psychologists. But we have modified, improved and created a completely new product. 
The interactive sandbox Briolight E has 30 programs, which allows it to be used in kindergarten, school and correctional rooms.
Exterior
The sandbox hull has been completely redesigned and improved. Starting from functional characteristics, ending with the material from which it is made. 
Case material – white laminated MDF. For the Briolight S sandbox, we exclusively used a chipboard. As standard, it was a light wood color, but for individual orders the color could be chosen by the customer. Now the color selection option is also retained, only this increases the delivery time, since the sandbox will be made to order. Laminated MDF takes a lot more time to make, but it is much more pleasant to touch and also has a more prestigious appearance. The sand will not scratch the surface of the sandbox, and dirt can be easily wiped off the surface. 
The edges of the sandbox are rounded. Small children, and those sitting on a chair or stroller, may come into contact with the straight edges of the sandbox, in order to completely secure the body, it was decided to make the edges rounded. In addition, the modular design allows you to increase the height of the sandbox without additional drawings and creating new projects, but this should also be warned in advance. This will be useful for professionals who often work with children in strollers. 
Shelves for storing toys. The delivery set of any of our sandboxes includes figures of animals (wild and / or domestic, and / or sea), boats and shovels. This is a standard set for sand therapy, which is used by psychologists. It can be expanded independently by adding figures of people, fantasy heroes, dinosaurs, etc. For their convenient storage, we made shelves on the lower pedestal of the sandbox. So, toys are always in quick access from a specialist, right next to the sandbox, and at the same time they do not create the impression of a mess in the office. 
Design. To better immerse such serious equipment in the interior of children's rehabilitation rooms, elementary school classrooms and other rooms where children are, we have displayed an African safari on the sandbox case. In addition, we have added colored illumination of the case with sand at the bottom, which is controlled by the remote control.
Software
Sandbox software includes 30 effects. Of these, 10 are special, and 20 are universal. 
Special effects:
1. Landscape: building land and sea, animation of waves, soundtrack.
2. Artifacts: Search for artifacts from different eras, countries, sizes and values. There you can find destroyed columns from Greece, pirate ships, war armor, spearheads and much more.
3-4. Build a city, day; Build a city, night. Two effects that are similar but immerse in a completely different atmosphere. The daytime city is accompanied by the noise of the crowd, the ringing of bells, the sound of cars, and the night city is filled with the sound of crickets, rain and silence. A child can build his own world, create cities, towns, and settle animals in them.
5. Chest: a fun game where children have to look for a treasure chest; the effect is aimed at the development of fine motor skills and is intended to stimulate children to make movements with their fingers, digging out as many chests as possible.
6-7. Mars; Moon: effects designed for lessons in astronomy; the Moon effect is built on the basis of a real image of the moon from a satellite, and Mars hides many interesting objects (rover, rocket, astronauts, etc.)
8. Coral reefs: an effect for relaxation, created at the request of psychologists. Building the landscape, you can grow corals and control the fish.
9. Ecology: the effect was created at the request of specialists from the landscape park, and also corresponds to the training program for preschoolers; in the sand, you can dig out both various garbage (plastic, cardboard, organic matter) and minerals (coal, gold), and a summary will appear on the side, which will explain to children how to dispose of garbage or other interesting facts.
10. Naval Battle: An addicting joystick game where players must sink each other's ship.
11. Volcano: This effect shows the process of a volcanic eruption.
12. Contour map: with the help of colors and contour lines, the teacher can explain geography to children and introduce them to the surface of the Earth, teach how to work with maps and much more.
Universal effects:
4 activation games (Squirrels, Air hockey and others);
17 cognition games (include Letters, Numbers, Syllables, Emotions, Plants and more)
2 correction games (Remember, Pirates and more)
A complete list of games for the Briolight sandbox can be obtained by sending a request to our managers in Viber, Telegram, Watsap or by calling by phone indicated on our website. 
BACK